LE ICONE DELLA VERGINE "AIUTO NEL PARTO": BREVE STORIA DI CANONI E TIPI
È noto che una particolare devozione, fra i fedeli russi, è riservata alle icone della Vergine che proteggono le partorienti. Il tempo, tuttavia, ha determinato, nella Chiesa ortodossa, la compresenza di tipi e canoni diversi, che coesistono fra loro e spesso si distinguono l'uno dall'altro per qualche particolare. Così può accadere di incorrere in errori. A mettere un po' d'ordine sull'argomento ha provveduto il blog russianicons.wordpress.com con il testo, in lingua inglese, che proponiamo agli amici de "I sentieri dell'icona".
Childbirth was a very serious matter in Russia in the days before modern medical care. Being a difficult time for women, they turned to what comfort they could get from an icon considered to specifically help with the difficulties of birth. There are two variants of icons on this theme, and their names tend to be confused in practice. The first is called (not surprisingly), Помощь В Родах — Pomosch v Rodakh — the "Help in Birth," or some slight variation on that such as Помощница В Родах — Pomoshchnitsa v Rodakh — "Helper in Birth," etc. Here is an example.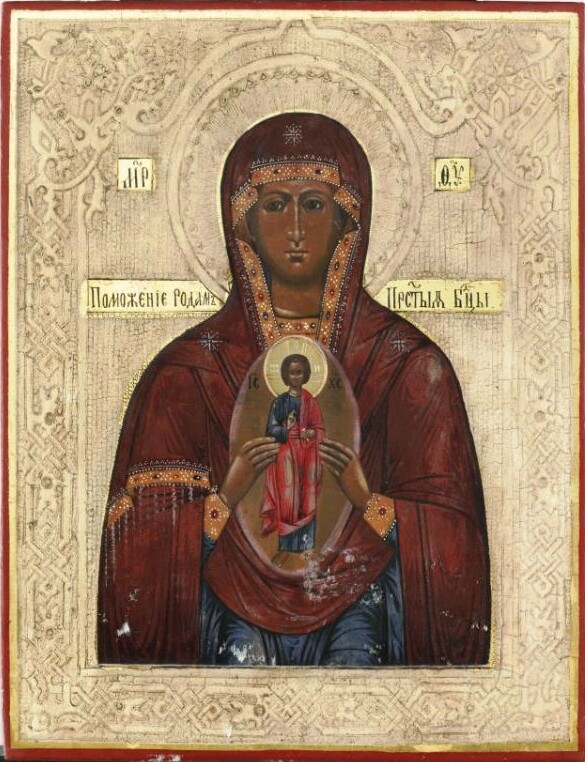 (Courtesy of The Museum of Russian Icons, Clinton MA)
The title here reads Поможение Родам' Пресвятыя Богородицы — Pomozhenie Rodam Presvyatuiya Bogoroditsui — "[The] Help in Birth Most Holy Mother of God." As you see, it is somewhat similar in form to the Znamenie ("Sign") type, except in the "Helper" the mother's hands are held inward at an ellipse with the Child Christ (Immanuel, Logos) in it.
The second variant is called «Помогательница женам чады рождаты» "Helper of Women in Birthing Children." But as already mentioned, the title given this type is often one of the same used for the first variant, as we see in this example, which is titled:  ОБРАЗЪ ПРЕСВЯТЫЯ БОГОРОДИЦЫ В РОДАХЪ ПОМОЩНИЦА OBRAZ PRESVYATUIYA BOGORODITSUI V RODAKH POMOSHCHNITSA "IMAGE OF THE MOST HOLY MOTHER OF GOD IN BIRTH HELPER". Or in normal English order, "The Image of the Most Holy Mother of God 'Helper in Birth.'"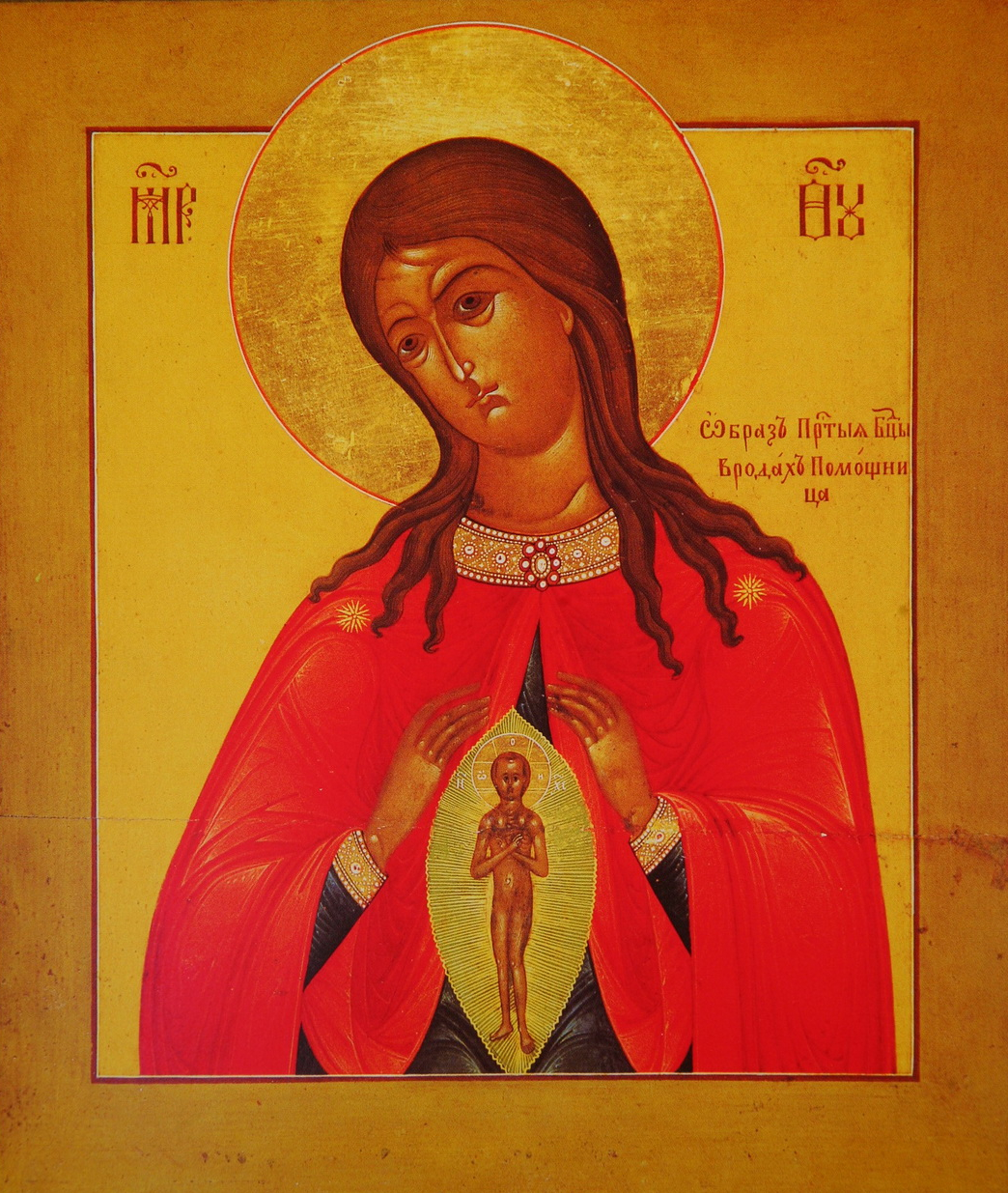 In this second variant, Mary's head is bare, with her long hair visible; her head nods slightly to the side, and her hands are held inward but above the mandorla/clipeus in which the naked Christ Child stands. In some examples the hands meet, with fingers overlapping, or are held in prayer. So this is another of those few types in which Mary is shown bareheaded, a likely indication of borrowing from Roman Catholicism, because showing Mary with loose hair is not typically Eastern Orthodox. That is probably why some copies add a headcovering to this type. Examples of these "midwives' icons" began to appear in large numbers in Russia in the 19th century, which is why most old examples one sees are only from the 19th-early 20th century. Modern copies of "Helper" icons — both painted but more often printed — are quite common.
A supposedly "wonderworking" example of this type "appeared" as late as 1993, when Protopriest Vladimir Andreyev was giving communion to an old woman in her home. She told her granddaughter to go to the attic and get an icon. An old copy of the "Helper in Childbirth" was brought down, covered with dust, soot, and cobwebs, and having a darkened metal cover (riza/oklad). The old lady gave it to Protopriest Vladimir Andreyev. The icon was cleaned, and supposedly began to work miracles involving childbirth and infertility. It is kept in the Cathedral of St. Nicholas 'The White' (Собор Николы Белого) in the city of Serpukhov ( Серпухов). With these two type variants, expect also variations in title and in form from copy to copy. One may even find Mary shown full length, or a thin crescent moon below the Child. The Russian Orthodox Church celebrates the "Helper in Birth" icon on December 6 (Old Calendar) or January 8 (New Calendar), considered in folk tradition the day of midwives and of women in labor. On this day gifts — particularly of prepared food — were brought to midwives to honor them. Midwives cooked a kind of porridge of millet or buckwheat, which was used in a folk ritual to make a child grow well. The midwife would hold up the pot of porridge and say Расти высоко-высоко "Rasti vuisoko-vuisoko" — "Grow high!" That is why the day is called Бабьи каши —Bab'i Kashi, meaning loosely "Old Wives' Porridge"; kasha is a porridge made of grains boiled in water or milk.
Now to confuse matters, there is a third Marian icon associated with birth, and in form it may appear either like the first variant above, or like the second variant, but with a different title. It may also depict Mary's hands below the mandorla/clipeus with the child, rather than above, or even depict one hand raised and one lowered. This type is called Слово плоть бысть — Slovo Plot' Buist' — "The Word Was Made Flesh" (taken from John 1:14), and it is also referred to as the Albazinskaya icon or as Знамение Албазинская — the "Znamenie 'Albazinskaya'" It is best to distinguish it from the others if it bears either of these titles.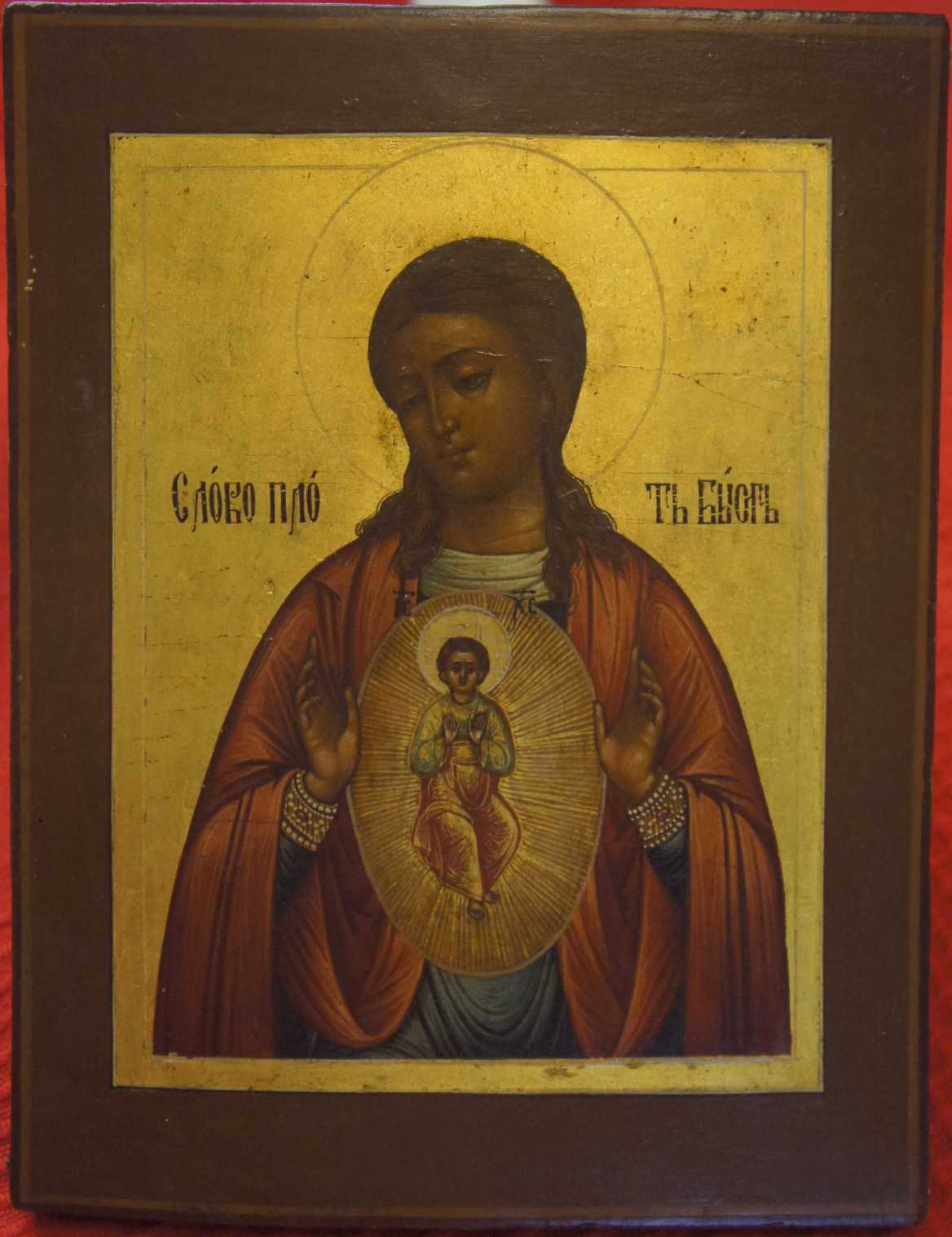 Here is the form with hands held below the Child: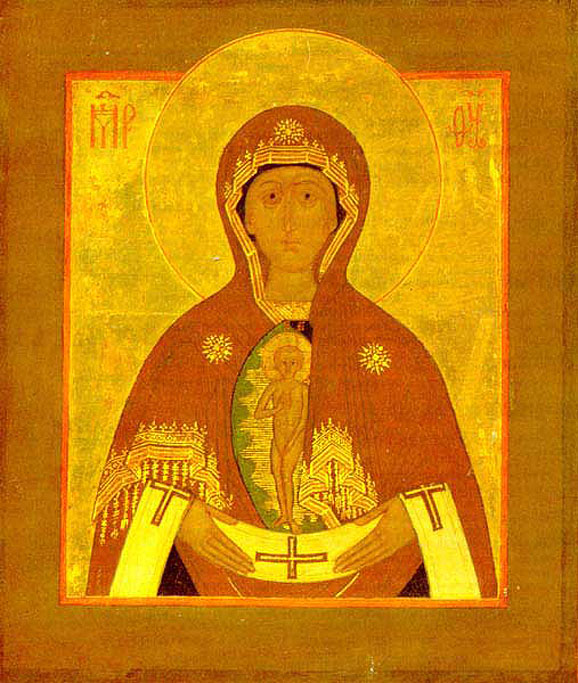 Notice the cloth — like an omophorion — across Mary's hands. It is not always present, and some examples may place Mary's hands above the Child, with a thin crescent moon below. The origin story of the Albazinskaya "Word Was Made Flesh" type relates that it was taken from the Kirensk Holy Trinity Monastery at Kirensky Ostrog (a fortress settlement on the Kirenga and Lena Rivers in Siberia) to the village of Albazin in 1665-6 by the staretz Ermogen. Albazin (now Albazino/Албазино́) was the first Russian settlement on the Amur River, and a fortress was built there in 1651. The Amur — called the "Black Dragon River" by the Chinese — has long been an area of border contention and struggles between Russia and China. The icon was then taken to Sretensk, on the bank of the Shilka River — a tributary of the Amur. In 1868 it was moved again, this time to Blagoveshchensk. In 1916 the icon was used to bless the Amur River Bridge, completing the construction of the Trans-Siberian Railway. After a stay in a museum during the Soviet Era, it is now kept in the Blagoveshchensk Cathedral. While originally it was regarded as a kind of "protector" of the settlement at the Russian border region with China, it gradually became regarded as a helper with problems in pregnancy and birth. Now obviously there is much confusion of form and title among these "Helper" icons, and when identifying them, the wise course is just to use the title written on a given icon. In the absence of a title, one should generally classify an icon by the common title given the first or second variant, depending on form, unless the "Word is Made Flesh" or Albazinskaya title is present.