LE SANTE ICONE E LA FEDE DEI CRISTIANI: QUALCHE DOMANDA PER SAPERNE DI PIÙ
L'autorevole sito orthodoxinfo.com ha pubblicato, di recente, una serie di domande che frequentemente vengono rivolte da chi si accosta alle icone e a questa particolare forma di arte sacra, che riconduce alle sorgenti della cristianità. Riproponiamo tre di questi argomenti – Che cos'è un'icona? I cristiani pregano le icone? Le icone compiono miracoli? – agli amici del nostro spazio web. Domande e risposte sono in lingua inglese.
What is an Icon?
An Icon is an image (usually two dimensional) of Christ, the Saints, Angels, important Biblical events, parables, or events in the history of the Church. St. Gregory the Dialogist (Pope of Rome ca. 590-604), spoke of Icons as being Scripture to the illiterate: "For what writing presents to readers, this a picture presents to the unlearned who behold, since in it even the ignorant see what they ought to follow; in it the illiterate read" (Epistle to Bishop Serenus of Marseilles, NPNF 2, Vol. XIII, p. 53). To those who would suggest that this is no longer relevant in our enlightened age, let them consider the rather large functional illiteracy rate we have, and the fact that even the most literate societies always have a sizable illiterate segment… their young children. Icons also lift up our minds from earthly things to the heavenly. St. John of Damascus wrote, "we are led by perceptible Icons to the contemplation of the divine and spiritual" (PG 94:1261a). And by keeping their memory before us through the Icons, we are also inspired to imitate the holiness of those therein depicted. St. Gregory of Nyssa (ca 330-395) spoke of how he could not pass an Icon of Abraham sacrificing Isaac "without tears" (PG 46:572). Commenting on this, it was noted at the Seventh Œcumenical Synod, "If to such a Doctor the picture was helpful and drew forth tears, how much more in the case of the ignorant and simple will it bring compunction and benefit" (NPNF2, Vol 14, p. 539).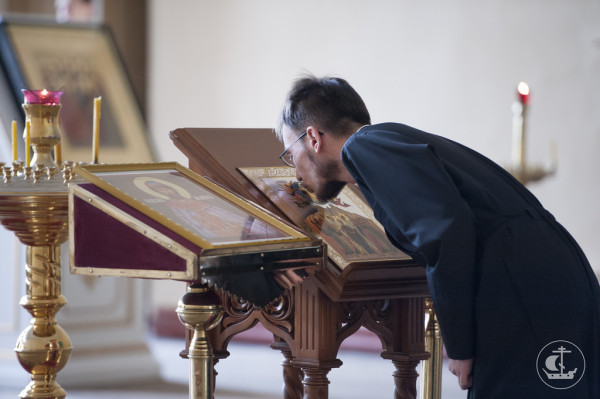 Do Orthodox Christians pray to Icons?
Christians pray in the presence of Icons (just as Israelites prayed in the presence of Icons in the Temple), but we do not pray to the image.
Do Icons work miracles?
To put this question in proper perspective, let's consider a few other questions: Did the Ark of the Covenant work miracles (e.g. Joshua 3:15ff; 1st Samuel 4-6; 2nd Samuel 11-12)? Did the Bronze Serpent heal those bitten by snakes (Numbers 21:9)? Did the Prophet Elisha's bones raise a man from the dead (2nd Kings 13:21)? Did St. Peter's shadow heal the sick (Acts 5:15)? Did aprons and handkerchiefs that had touched St. Paul heal the sick and caste out evil spirits (Acts 19:12)? The answer to these questions are, Yes, in a manner of speaking. Nevertheless, to be precise, it was God who chose to work miracles through these things. In the case of the Ark and the Bronze serpent, we have images used to work miracles. God worked a miracle through the relics of the Prophet Elisha, through the shadow of a Saint, and through things that had merely touched a Saint. Why? Because God honors those who honor Him (1st Samuel 2:30), and thus takes delight in working miracles through his Saints, even by these indirect means. The fact that God can sanctify material things should come as no surprise to those familiar with Scripture. For example, not only was the Altar of the Temple holy, but anything that touched it was holy as well (Exodus 29:37). To reject the truth that God works through material things is to fall into Gnosticism. So yes, loosely speaking, Icons can work miracles—but to be precise, it is God who works miracles through Icons, because He honors those who have honored Him.